Macrozamia communis
Burrawang
Macrozamia communis L.A.S.Johnson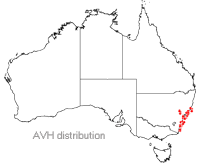 M. communis is the most commonly occurring and most widespread cycad in the state and the most southerly occurring cycad species in the world. This eastern New South Wales endemic naturally occurs from the coast to nearby slopes and ridges of the Great Dividing Range extending from the Taree region in the north to near Bega on the far south coast.
Locally abundant in wet to dry sclerophyll forests, in coastal areas they grow in sandy soils and in nearby coastal ranges they grow in gravelly loams. M. communis naturally grows in a temperate climate with warm to hot summers and cool to cold winters with frosts occurring in some areas.
Its common name, 'Burrawang', is derived from the Dharuk language spoken by the aboriginal tribes indigenous to the Sydney and Illawarra regions for whom it provided a food source after thorough treatment. The same common name however, is frequently misapplied to other Australian cycads.
M. communis is a medium to large cycad with a woody trunk which is 30-80cm in diameter and 30-200cm tall. The trunk is typically underground, but may be emergent where growing on shallow soils or on rocky sites. It has 50-100 flat, pinnately compound leaves up to 200cm long, arranged in a gracefully rounded crown arching out from the central trunk.
Being a cycad this species is dioecious, meaning that female and male reproductive organs are situated on separate plants. Female plants typically bear 1-3 cones which are glaucous, erect, then drooping when mature, barrel-shaped and 200-450mm long by 100-200mm in diameter. The seeds are 30-45mm by 20-30mm in size, oblong to ovoid in shape and with an orange, bright red, or sometimes yellow fleshy covering. Male plants bear 1-5 glaucous cones, which are erect, then drooping after pollen is shed, cylindrical and 200-450mm long by 80-120mm in diameter.
M. communis is a popular member of its genus for cultivation around the world and is sought after for its elegant and highly ornamental qualities. It is strongly recommended to anyone wishing to grow cycads because of its ease of cultivation and hardiness. Well-suited to large pots or directly in the ground, it grows at a moderate rate and given enough water and fertilizer and well-drained soils, it will form sizable specimens in a relatively short time. In its habitat it seems to prefer partially-shaded locations under an open Eucalyptus forest canopy. While cultivated specimens do well under partial shade, plants will adapt to full sun as long as adequate watering is maintained throughout the year. In cultivation it is suited to temperate and subtropical regions and has been known to survive temperatures as low as -8ºC.
Large specimens transplant readily. Propagate from seed in a shaded location, in a well-drained potting mix regularly watered for 6-24 months until germination occurs.
Mealybugs are the only major insect pest affecting M. communis. However, this can be easily controlled by the application of insecticide about twice during the growing season. Scale insects, which may occasionally infest the crown, can be controlled in the same way.
Text by Steven Varga (2011 Student Botanical Intern)
Name Meaning: Macrozamia communis
Macrozamia – from the Greek makros meaning large and Zamia, a genus of cycads.
communis – from the Latin communis meaning common, referring to its abundance in dense stands, sometimes dominating the shrub layer.
References
Elliot, W.R. & Jones, D.L. (1993) Encyclopaedia of Australian plants suitable for cultivation. Vol 6, K-M, p. 273.

Hardwick, R. (2001) Nature's larder: a field guide to the native food plants of the NSW south coast. Homosapien Books, Jerrabomberra, NSW. pp. 29-31.

Hill, K. & Osborne, R. (2001) Cycads of Australia. Kangaroo Press, Sydney. pp. 83-84.

Jones, D.L. (2002) Cycads of the World, 2 nd edn, Reed New Holland, Sydney. pp. 325-326.

Sacks, O. (1996) The island of the colour-blind, Pan Macmillan, Sydney.

Thompson, C. & Kennedy, P. (n.d.) Macrozamia communis, Palm & Cycad Societies of Australia, Brisbane, viewed 3 February 2011. Available at http://www.pacsoa.org.au/cycads/Macrozamia/communis.html

Whitelock, L.M. (2002) The Cycads, Timber Press, Portland, Oregon. pp 250-251.