Eucalyptus gregsoniana
Wolgan or Mallee Snow Gum
Eucalyptus gregsoniana L.A.S.Johnson & Blaxell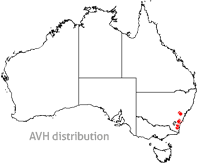 Eucalyptus gregsoniana, commonly known as the Wolgan or Mallee Snow Gum, is distinguishable by its mallee habit. This main attribute makes it a unique member of the snow gums.
E. gregsoniana is native to the Blue Mountains, the Budawang Range and the Braidwood area, New South Wales. It enjoys high altitudes growing in alpine mallee and shrubland environments. It can be seen along ridges, hills and flat countryside in well-drained soils. It is frost and wind hardy and prefers dry, sunny areas.
E. gregsoniana can be small single stemmed tree or a spreading mallee tree of 4-6m. It contains a lignotuber at its base which helps preserve the plant after a fire, grazing or cutting has occurred. Dormant vegetative buds below the surface of the lignotuber develop to create new sprouts. Like other snow gums it presents whitish-grey to olive-green smooth bark which divides from the tree in slender ribbony strips.
The leaves of E. gregsoniana are lanceolate, glossy grey-green with prominent parallel venation. They hang attractively from red branchlets in a weeping fashion.
Its Inflorescences are made up of 7-11 flowered creamy white axillary umbels which can be seen in profusion from November-December.
Ornamentally, E. gregsoniana has an attractive presentation with rich green leaves contrasting with red stems, and weeping orientation. Appealing as a small lignotuberous shrub, its manageable mallee habit creates a beautiful spread crown perfect for small urban environments. Alternatively it can be trimmed regularly to maintain a single trunk. Like most eucalypts it's drought resistant, and does extremely well in cold, frosty environments. Once this eucalypt is planted and established, it requires very little care and maintenance.
There has been no record of this species self-sowing seed in urban environments. Its moderate height of 4-6m means that it shouldn't interfere with overhead power-lines and it does not generally shed limbs that could cause risk or damage to structures.
E. gregsoniana also attracts nectar feeding birds, encouraged by its attractive flowers. Its flowers also attract bees and butterflies and offers habitat protection for native fauna.
Propagate by seed, ideally between September and March and water everyday, twice a day throughout summer. Plant seed in well-drained, sandy soils and allow for plenty of sunlight, the more sunlight the better the health of the tree. Typically slow growing, E. gregsoniana will bloom at 2m and handles chop-backs. Depending on preference, this Eucalyptus can be cut back to encourage mallee habit or regularly pruned to maintain a single trunk. Once established it can maintain itself.
Limitations to the cultivation of E. gregsoniana are few, but include intolerance to water-logged soils, so be sure to plant in well-drained sandy soil, and avoid muddy or clay substrates. It also prefers colder climates so tropical or arid zones would not suit E. gregsoniana.
Text by Clem Daw (2012 Student Botanical Intern)
Name Meaning: Eucalyptus gregsoniana
Eucalyptus — from the Greek eu meaning well, and kalyptos meaning covered, alluding to the cap or lid which covers the stamens in bud.
gregsoniana — named after Eucalyptus enthusiasts, the Gregsons, a father and son from Mount Wilson, NSW.
References
Elliot, W.R. & Jones, D.L. (1986) Encyclopaedia of Australian Plants Suitable for Cultivation, Volume 4, Lothian Publishing Company Pty Ltd, Port Melbourne, Vic.

Brooker, M.I.H. & Kleinig, D.A. (2006) Field Guide to Eucalypts, Volume 1, South Eastern Australian – 3rd Edition, Bloomings Books Pty Ltd, Melbourne, Australia.

Wrigley, J. & Fagg, M. (2010) Eucalypts – A Celebration, Allen & Unwin, NSW .

Wrigley, J. & Fagg, M. (2003) Australian Native Plants, 5th Edition, Reed New Holland Publishes Pty Ltd, NSW.

Harden, G.J. (1991) Flora of New South Wales, Volume 2, New South Wales University Press.

Windmill Outback Nursery (2004) Eucalyptus gregsoniana. Available at

http://www.australiaplants.com/Eucalyptus_gregsoniana.htm [Accessed 1 February 2012].