Calocephalus lacteus
Milky Beauty-head
Calocephalus lacteus Less.
Calocephalus lacteus is a perennial herb, growing 5–70 cm high and spreading by means of rhizomes to form a dense mat suitable for use as a ground cover. Green-grey foliage gives good texture to garden beds, while the white globular flower heads provide highlights of colour in the ground layer from late spring to early autumn. Closer inspection reveals that the leaves are green on the upper surface with silver tomentose hairs beneath, while flower heads are collections of small yellow florets inside white bracts.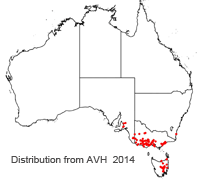 Calocephalus lacteus occurs naturally in open situations of woodlands and grassland in south-eastern New South Wales, Victoria, Tasmania and South Australia. This species is listed as Rare under the Tasmanian Threatened Species Protection Act 1995.
This species makes a low maintenance and decorative ground cover. It flowers from November to March providing colour and interest for many months during the summer season. Calocephalus lacteus will suit gardens in most environments in New South Wales, ACT, and Victoria (excepting alpine areas) and in the central areas of Tasmania and the Adelaide region of South Australia. It offers versatility of position and soil type. Under cultivation, it grows in a range of soil types from sandy to clayey and in the wild tolerates saline environments. This species prefers open locations with full sun to part shade and is unlikely to tolerate deep shade.
In the Australian National Botanic Gardens, Calocephalus lacteus grows in two different locations showing the range of possibilities for positioning this plant. Firstly, it grows in a moist position with a loamy soil, open to sun but sheltered from frost by tree cover. In another part of the Gardens, this species grows in a dry rockery with shallow sandy soil and exposed to full sun and frost. Thus, in the ANBG this species has been found to tolerate temperatures of -8°C to 40°C and to be drought and frost tolerant. In the event of drought or frost damage established plants will re-sprout from rhizomes, making them extremely hardy.
Propagation from cuttings is recommended. Calocephalus lacteus is available as tube stock from some native plant nurseries.
Calocephalus lacteus spreads to cover several square metres. Maintenance consists of watering regularly during dry periods (3 times per week) and maintaining appearance by pruning dead material. A slow release fertiliser applied once per year in early spring may assist growth.
Text by Shana Nerenberg (2014 Student Botanical Intern).
Name meaning: Calocephalus lacteus
Calocephalus – from the Greek kalos, meaning beautiful, and kephalos, meaning head, in reference to the inflorescence
lacteus – from Latin, meaning milky, in reference to the white bracts that surround the flowers
References:
Schaumann, M., Barker, J., Greig J. & Australian Daisy Study Group (1987) Australian daisies: for gardens and floral art. Lothian Publishing Company Pty Ltd Melbourne Victoria.

AVH, Australia's Virtual Herbarium (2014). Calocephalus lacteus. Council of Heads of Australasian Herbaria, http://avh.chah.org.au. Accessed 02/02/2014.

Threatened Species Section (2014). Calocephalus lacteus (milky beautyheads): Species Management Profile for Tasmania's Threatened Species Link. http://www.threatenedspecieslink.tas.gov.au/calocephalus-lacteus . Department of Primary Industries, Parks, Water and Environment, Tasmania. Accessed on 2/2/2014.

Short, P.S.(1999) Calocephalus lacteus, in PlantNET - The Plant Information Network System of The Royal Botanic Gardens and Domain Trust, Sydney, Australia (version 2.0). http://plantnet.rbgsyd.nsw.gov.au/cgi-bin/NSWfl.pl?page=nswfl&lvl=sp&name=Calocephalus~lacteus. Accessed 02/02/2014.

Department of Primary Industries, Water and Environment (2003) Threatened Flora of Tasmania – Calocephalus lacteus. http://www.dpipwe.tas.gov.au/inter.nsf/Attachments/SSKA-72Y6TA/$FILE/Calocephalus%20lacteus.pdf. Accessed 02/02/2014.

Victorian Flora (n.d.) Calocephalus lacteus. http://www.victorianflora.wmcn.org.au/plantDetail.php?plantno=86.00000 . Accessed 02/02/2014.

ANBG horticulturalists (2014), Pers. comm.