Archontophoenix cunninghamiana
Piccabeen Palm, Bangalow Palm
Archontophoenix cunninghamiana (H.Wendl.) H.Wendl. & Drude
Bangalow Palm gives a tropical look to plantings and this together with its handsome feathery fronds and coloured flowers and fruit make it a popular horticultural species extensively planted in gardens and public spaces.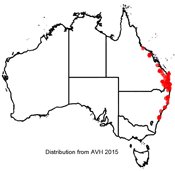 This species is a monocotyledon in the Arecaeae family. It is endemic to Australia and is found naturally occurring from around Mackay, Queensland to the Bateman's Bay area of New South Wales. It grows in colonies in wet areas such as stream banks and gullies in rainforest and other moist forests and in swampy areas. It grows on a variety of soil types and even grows on sand on Fraser Island.
This palm has a solitary stem and reaches a height of up to 30m and a diameter of up to 30cm. It has a prominent crownshaft and arching fronds up to 4.5m long with many leaflets, giving it an attractive feathery appearance. The fronds are a dark glossy green on the upper surface and a lighter green underneath and shed and fall off automatically. The inflorescence carries small lilac flowers on creamy branches and the fruit ripens to a bright red with a waxy finish which are attractive to birds. In the warmer parts of its range it flowers and fruits all year round while it flowers in either summer or autumn the further down the East Coast it grows. It may not flower if the growing season is not warm enough.
The leaf bases were used as water carriers by Aboriginal people and the names Piccabeen and Bangalow supposedly come from Aboriginal words for water carrier. The cabbage (the shoot and surrounding young leaves and tissue) is edible and was widely collected by Aboriginal people and early settlers.
This is an adaptable plant that can grow in a range of soil types, though it responds well to soil rich in organic matter. It will grow in partial shade or full sun; it is cold-tolerant though does not handle frost well. It is a fast-growing plant and can grow through winter in cooler climates if given enough water. A plentiful supply of water is a very important requirement for this species, especially in dry periods. It does not like root disturbance and can be difficult to transplant successfully but is otherwise easy to grow. Some protection when young and when grown in cooler areas is recommended. Fertilise with a palm-specific fertiliser. Bangalow Palm can also be grown as a pot plant. It is sometimes affected by Palm Dart butterfly larvae which give the fronds a ragged appearance, as well as scale insects and mealy bugs. These can be dealt with using insecticide sprays or biocontrols.
This species is easily propagated from seed by placing seeds in a plastic bag with compost and giving them humidity and high temperatures; these will germinate in 1 – 3 months and the sprouts can be planted out. It is also available from nurseries. It does have weed potential outside its native range, which is something to be considered.
Heather Forbes, Botanical Intern 2015
Name meaning: Archontophoenix cunninghamiana
Archontophoenix - from the Greek 'archon' or 'archontos' meaning 'ruler' in reference to its stately appearance and 'phoenix' in reference to the date palm (Phoenix L.).
cunninghamiana - after Allan Cunningham, a British botanist who collected extensively in Australia and who sent some of the earliest specimens to The Royal Botanic Gardens, Kew.
References:
Brooks, A.K. (Feb 2015) Archontophoenix cunninghamiana (H.Wendl.) H.Wendl. & Drude, in PlantNET - The Plant Information Network System of The Royal Botanic Gardens and Domain Trust, Sydney, Australia (version 2.0). Available at http://plantnet.rbgsyd.nsw.gov.au/cgi-bin/NSWfl.pl?page=nswfl&lvl=sp&name=Archontophoenix~cunninghamiana

Dowe, J. L. (2010) Australian Palms Biogeography, Ecology and Systematics, CSIRO Publishing.

Jones, D. (1984) Palms in Australia, Reed Books.

Spencer, R. (2005) Horticultural Flora of South-Eastern Australia Vol. 5, UNSW Press.

The Australian Botanic Garden, Mount Annan (n.d.) Archontophoenix cunninghamiana, Plant of the Month – April. Available at http://www.rbgsyd.nsw.gov.au/annan/the_garden/Plant_of_the_Month/archontophoenix_cunninghamiana [accessed Feb 2015]

Wendland, H. & Drude, O. (1875) Australasiae Palmarum disposition systematic, generum specierunque novarum description, edjectis notis ad descriptions vestiores et de domicilio, Linnaea 39: 214. Available at http://www.biodiversitylibrary.org/page/122841 [accessed Feb 2015]

Toby Golson (2014) Horticulturalist, Australian National Botanic Gardens, pers. comm.