Blandfordia grandiflora
Christmas Bells
Blandfordia grandiflora is naturally found in swampy areas from the coast of Sydney up to Brisbane. It's commonly known as Christmas Bells because it tends to flower around Christmas time (November to March), although has been known to occasionally flower at other times of the year. The plant is in the family Blandfordiaceae.
The leaves are about 70cm long and strap-like. The flowers are bell-shaped with yellow tips, and can range from being red to entirely yellow in colour. The flowers reach above the foliage on stalks that are usually about 80cm high, but can sometimes be up to 175cm tall. The inflorescence (group of flowers) can be 2 to 20 flowered, but is usually about 4 flowered. The flowers are large and can be picked and kept as cut flowers for up to week. Additionally, the flowers can sometimes attract native birds to your garden, and the seed heads are not unappealing.
Christmas Bells do not require a lot of maintenance once established, however, they do need to be watered regularly if it is dry. They can be grown from seeds, or from divisions of older plants. Both divisions and seeds can be purchased from most nurseries. Growing them in pots usually results in a higher establishment success rate compared to growing them in garden beds. This is because Christmas Bells can often be smothered by other plants when grown in garden beds. Additionally, they can be planted densely in pots and can survive transplanting.
The plant germinates within about 3 weeks of sowing the seed. It usually takes about three years for the germinated seed to flower, but if grown from division, they usually flower earlier. Seeds can be collected from the seed heads usually within three months after flowering. They can be collected by placing the cut, mature flower heads into paper bags.
Something to be aware of is that the flower heads can be predated on by various herbivores such as kangaroos and wallabies. They can also be effected by root fungal diseases, although this is not common. The plants are slightly frost tolerant. They require light shade to full sun conditions. The plants do best in moist sandy soils that are free draining. When the plants are given small amounts of fertiliser, they tend to do better.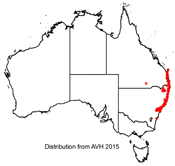 Martina Taylor, Botanical Intern 2015
Name meaning: Blandfordia grandiflora
Blandfordia - named after the Marquis of Blandford by English botanist J.E. Smith in 1804.
grandiflora - meaning 'large flower' in Latin
References:
Australian Native Plants Society (Australia) (2013) Blandfordia grandiflora. Available at http://anpsa.org.au/b-gra.html [Accessed Feb 2015]

Bryant, G. (2005) Encyclopedia of Australian native plants, Random House, Australia.

Gollnow, B., Dick, G. & Dalley, P. (2003) Growing Blandfordia (Christmas bells) commercially, Agnote DPI-148, NSW Agriculture. Available at http://www.dpi.nsw.gov.au/__data/assets/pdf_file/0008/134837/blandfordia.pdf [Accessed Feb 2015]

Mason, J. (1997) Growing Australian natives, Kangaroo Press, Australia

Rigby, G. & Rigby, B. (2005) Successfully growing Australian native plants, Woodslane Press, Australia

Smith, J.E., (1804) Exotic Botany. 1: 5, t. 4

Wrigley, J & Fagg, M 2002, Starting out with natives: easy-to-grow plants for your area, Reed New Holland, Australia