Brachyscome iberidifolia
Swan River Daisy
Brachyscome iberidifolia Benth.
Brachyscome iberidifolia, commonly known as the Swan River Daisy, is a colourful annual in the family Asteraceae. It grows 25 to 40cm tall, with branched stems and highly-divided leaves and daisy flowers. The ray florets of the daisy flower vary in colour from mauve, purple and white through all shades of blue, which surround contrasting disc florets that are black, yellow or brown circled with yellow. It is a popular and easily-grown garden plant for bedding, borders, rockeries, pots and hanging baskets.
Swan River Daisies are found in the wild in WA, SA and southern NT in a variety of habitats: in sandy or clay soils, on sand-hills and plains, along water courses, on swampy ground, on chalky hills and among granite outcrops. They are moderately frost-hardy and can be grown easily in most areas of Australia.
In the wild Brachyscome iberidifolia usually flowers in late winter and spring but, in cultivation, it commonly flowers in spring and summer and intermittently at other times of the year. If sown in spring, flowering may extend into summer and autumn.
Swan River Daisies may be grown from seed or from seedlings, both of which are readily available from commercial growers. Seeds may also be collected from healthy plants when the weather is dry and the dried ray florets have fallen off to reveal the mature seed. Commercial seeds germinate quickly, within 2 to 12 days and often within 2 to 4 days. Cuttings will strike quickly but may result in less vigorous growth. They should be planted in full sun in clay or sandy soils but they will tolerate shade and, if sown directly under trees, will form a natural carpet. Sowing should be done in May or June in coastal areas and, in colder areas, they are best sown in peat pots or seedling flats in June or July. In areas subject to frost, germination success can be improved by sowing after frosts have passed.
They respond well to watering and fertilising, although an initial treatment with a liquid fertiliser, such as Seasol, should be sufficient in most cases. Once established, plants may be picked out to 20cm centres. Spent plants may be cut back, however plants commonly regenerate naturally from seed, even in containers and hanging baskets. Note that they are prone to attack by powdery mildew.
There are many colourful cultivars available.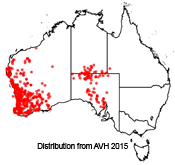 Ross Young, Botanical Intern 2015
Name meaning: Brachyscome iberidifolia
Brachyscome - from the Greek brachys meaning 'short' and kome for 'hair', in reference to the short pappus bristles on the top of the achenes (fruits) of some species.
iberidifolia - leaves like those of Iberis (a genus of Old World annual and perennial flowering plants in the family Brassicaceae, commonly known as Candytuft)
References:
Australian Native Plants Society (Australia) (2006) Australian Daisies - Propagation Available at http://anpsa.org.au/daisy2.html [Retrieved 15 Feb 2015]

Corrick, M.G. & Fuhrer, B.A. (1996) Wildflowers of Southern Western Australia. Five Mile Press, Noble Park VIC.

Salkin, E., Thomlinson, G., Armstrong, B., Courtney, B. & Schaumann, M. (1995) Australian Brachyscomes. Australian Daisy Study Group, Melbourne VIC.

Schaumann, M., Barker, J. & Greig, J. (1987). Australian Daisies for gardens and floral art. Lothian Publishing Company Pty Ltd, Melbourne, VIC.

Wrigley, J.W. & Fagg, M. (2012) Australian Native Plants: Cultivation, Use in Landscaping and Propagation (Sixth Edition), New Holland Publishers, Frenchs Forest, NSW.

Amber Howe (2015) Horticulturalist, Australian National Botanic Gardens, Canberra. Pers. comm.