Cheiranthera linearis
Finger Flower
Cheiranthera linearis A.Cunn. ex Lindl.
Cheiranthera linearis (or blue Finger Flower) is a small, woody native Australian shrub in the family Pittosporaceae, characterised by its wonderful display of royal blue flowers in early spring and low maintenance requirements.
Uncommon but widespread, Cheiranthera linearis mainly occurs in temperate, southern Australia along the western slopes of the Great Dividing Range, running from South East Queensland to Central Victoria. It grows on sandy or stony soils, in sclerophyll woodland, open forest and occasionally disturbed sites.
Cheiranthera linearis grows to between 20 and 50cm tall and has stems lined with thin linear leaves. Cheiranthera linearis flowers once a year. Time of flowering is varied across Australia, commonly in early spring (September through to October). The plant can project between 1 and 5 flower stems from a single branch, each of which display magnificent, about 35mm wide, deep royal blue flowers with 5 finger-like yellow anthers which begin to fade later into the season. Purple-green coloured fruits develop in early summer turning fawn as they mature.
Cheiranthera linearis is a hardy and adaptable plant, suited to a wide variety of well drained soils and is not pH sensitive. Successfully cultivated in Canberra, Cheiranthera linearis is frost tolerant and drought hardy, requiring little watering and minimal maintenance. While preferring dappled shade or partial sun, Cheiranthera linearis will tolerate full sun. If overly shaded it will become less woody and shrub-like and develop climbing characteristics. It is important to regularly tip prune the shrub to ensure shape is maintained and to avoid the plant becoming sparse and woody.
Cheiranthera linearis can be propagated from seed, however may take many weeks before the seeds begin to germinate. The preferred method is propagation through cuttings using 8 to 12cm long cuttings from hardened, new season's growth. More information on propagation through cuttings can be found here.
With its beautiful flowers, small size, low maintenance requirements and adaptability to a range of varied environmental tolerances Cheiranthera linearis is well suited for, and would make a fantastic addition to, even the smallest of Australian gardens.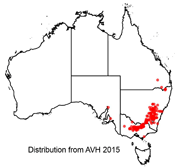 David Martin, Botanical Intern 2015
Name meaning: Cheiranthera linearis
Cheiranthera - A combination of two Greek words, Cheir meaning "hand or fist" and anthos for "a flower" referring to the finger-like arrangement of the stamens
linearis - A reference to the narrow, linear leaves of this species
References:
Australian National Botanic Gardens (2013) Growing Native Plants – Propagation from cuttings. Available at http://www.anbg.gov.au/PROPGATE/propagat.htm [Accessed Feb 2015]

Australian Native Plants Society (Australia) (2007) Cheiranthera cyanea. Available at http://anpsa.org.au/c-cyan.html [Accessed Feb 2015]

Cayzer, L.W (1997) Revision of the family Pittosporaceae in Australia, Ph.D thesis, Australian National University, Australia

Harden, G.J (1992) Flora of New South Wales Volume 3, New South Wales University Press, Sydney, Australia

Makinson, R.O. (2015) Cheiranthera linearis A.Cunn. ex Lindl. in PlantNET - The Plant Information Network System of The Royal Botanic Gardens and Domain Trust, Sydney, Australia (version 2.0). http://plantnet.rbgsyd.nsw.gov.au/cgi-bin/NSWfl.pl?page=nswfl&lvl=sp&name=Cheiranthera~linearis [Accessed Feb 2015]