Gastrolobium sericeum
Gastrolobium sericeum (Sm.) G.Chandler & Crisp
Gastrolobium sericeum is in the family Fabaceae. It was originally described and named Chorizema sericeum by botanist James Edward Smith in 1874. It was then subsequently moved into the genus Brachysema along with all other Gastrolobium species, before finally being transferred to its current genus Gastrolobium in 1995 by botanist Michael Crisp. There is no widely used common name for Gastrolobium sericeum but species in this genus are sometimes generally called Poison Peas, as many are known to be poisonous, especially to grazing cattle.
Gastrolobium sericeum is naturally distributed in a small area on the south-west coast of Western Australia. It can be found growing on clay or sand soils on alluvial flats or the margin of swampy water courses.
Gastrolobium is generally a dense prostrate shrub that grows to about 1 m, although some forms can reach 3 m high. The leaves are about 5 cm in length and elliptical - oblong or sometimes ovate - obovate in shape. The margins of the leaves are distinctly undulating and slightly recurved. The leaves, especially the new growth, have silvery hairs on the underside. This is thought to be a drought mechanism that increases the humidity of the lamina and reduces water loss from the stomata.
Gastrolobium flowers have a different shape to the typical 'pea' flower. The standard petal is much smaller than the other petals and the keel and wing petals are bent forward with their margins recurved. The inflorescences are 1 – 2 flowered and the flower colour ranges from green to red to almost black. Not only are the unusual shape and colours of the flowers aesthetically desirable but they also produce nectar that attracts native birds. The flowering season is from early spring to early summer (September to December) and the fruiting period is in early summer (December).
This plant makes a particularly good ground cover in a low maintenance garden as it is frost hardy and relatively drought tolerant once established. It can grow in a range of soils from clay to sandy soils. However it does require reasonable drainage and part to full sunlight.
It can be cultivated by propagating cuttings of the firm tip growth. This is best done in late spring after the new growth has matured slightly. Propagation can also be done from seed. The seed coat needs to be physically broken by abrading the surface, which can be achieved with sandpaper or a razor. Another method could be to crack the surface by boiling the seeds in water for 5 mins and soaking them in cool water overnight. The plant and seeds are readily available from nurseries.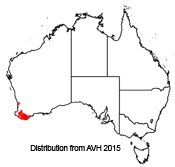 Alice Duong, Botanical Intern 2015
Name meaning: Gastrolobium sericeum
Gastrolobium - from the Greek words gastros, meaning "stomach", and lobus, meaning "pod", referring to the seed pods
sericeum - silky, referring to the silky hairs
References:
Australian Native Plants Society, Australia (2013) Gastrolobium sericeum. Available at http://anpsa.org.au/g-ser.html [Accessed Feb 2015].

Chandler, G.T., Crisp, M.D., & Cayzer, L.W. (2002) Monograph of Gastrolobium (Facaceae: Mirbelieae), Australian Systematic Botany 15: 619-739.

Feilen, P. (2015) Horticulturist, Australian National Botanic Gardens. Pers. comm.

Spooner, A. (2004) Gastrolobium sericeum. Brief description. FloraBase: the Western Australian Flora. Available at http://florabase.dpaw.wa.gov.au/browse/profile/20500 [Accessed Feb 2015].

Wrigley, J.W. & Fagg, M. (2013) Australian Native Plants, 6th edition. New Holland Publishers, Australia.