Banksia aquilonia
Northern Banksia
Banksia aquilonia (A.S.George) A.S.George
Banksia aquilonia, commonly known as the Northern Banksia, is a member of the Proteaceae family. Banksia aquilonia has an unmistakeable beauty, a unique textured bark, attractive emerging buds and fawn-coloured new foliage that unfolds in a spiral fashion. It is a prime species for attracting native birds, especially cockatoos, because of its abundance of nectar and seed. It also has useful screening qualities if it is kept bushy by regular pruning.
This species of Banksia occurs naturally in northern Queensland in coastal and montane areas from Cedar Bay National Park to the Paluma Range as well as Hinchinbrook Island off the coast of north Queensland. It is found in both woodlands and forest. It most often occurs on hillsides, but can be found on creek banks and flats of granitic sand. The annual rainfall of these distribution areas ranges from 1000 to 4000 mm. The traditional owners of the land in which Banksia aquilonia is distributed, the Jirrbalngan people, call the Banksia aquilonia, 'jingana'.
Banksia aquilonia is a tall shrub or small tree and can reach up to 8 metres tall. It is similar to the much more widespread Banksia integrifolia, especially in the inflorescence, which is pale yellow, about 60 to 100 mm long and 50 to 60 mm wide, and flowers from March to June. However, the leaves of Banksia aquilonia are scattered alternatively, and a have a more narrow obovate-lanceolate shape, ranging from 50 to 120 mm long and 6 to 12 mm wide. Fire tolerant, this species can regenerate from epicormic shoots after fire.
Banksia aquilonia grows in a variety of soil types, from deep acidic sand to moist granitic soil, although a pH of 5.5 to 6.5 is ideal. Low levels of nutrients are easily handled and low levels of phosphorus are preferred. Cuttings are the easiest way to propagate Banksia aquilonia, as they will stand a higher chance of survival than if propagated from seed. Cuttings should be semi-hardened and of pencil thickness. Propagation from seed is possible. However, the potential for hybrids is increased. To avoid hybrids, use of seeds from natural populations is preferable. After successful propagation, Banksia aquilonia flowers in about 4 to 6 years.
Banksia aquilonia is well suited to warm humid climates and cool temperate regions with a moderate rainfall. It does well on the east coast, north of Sydney but is not very well suited to arid areas. In areas outside its desired climate, such as Canberra, cultivation is still possible as long as it has protection from frost, a well-drained, sheltered environment (especially in its juvenile stage) and additional watering during summer (depending on the local rainfall).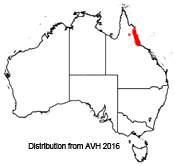 Zachariah Cotter, Volunteer Botanical Training Program Participant 2016
Name meaning: Banksia aquilonia
Banksia – named after Sir Joseph Banks (1743–1820), who collected the first specimens of the genus during Captain Cook's voyage in 1770
aquilonia - derived from the Latin word, 'aquilonius', meaning northern, because of its north Queensland distribution
References:
Atlas of Living Australia (2016) Banksia aquilonia (A.S.George) A.S.George. Available at http://bie.ala.org.au/species/urn:lsid:biodiversity.org.au:apni.taxon:248110 [Accessed 15 February 2016]

Liber, C. (2005) Aboriginal Names for Banksia Species, Association of Societies For Growing Australian Plants Banksia Study Group Newsletter Issue 10: Vol. 6 No. 2 –Winter 2005: 6. Available at http://anpsa.org.au/banksSG/banksiasg-6-2.pdf [Accessed 2 May 2016]

Collins, K., Collins, K. & George, A. (2008) Banksias. 1st ed. Bloomings Books, Melbourne

Taylor, D., (2016) Curator, ANBG Living Collection. pers. comm.