Corymbia citriodora
Lemon-Scented Gum
Corymbia citriodora (Hook.) K.D.Hill & L.A.S.Johnson
Corymbia citriodora is a tall smooth-barked gum with strongly lemon-scented leaves. Corymbia citriodora grows on undulating country in open forests and woodlands, on dry ridges and plateaux of coastal sub-tropical Queensland. It is also naturalised further inland in Queensland, as well as in Western Australia, South Australia, New South Wales and Victoria.
Its elegant form is an attractive feature of the Lemon-scented Gum and it has been described as one of Australia's most beautiful trees and "reliably vertical". It grows to over 40 m in its native habitat, but typically 20 to 30 m under cultivation. It is tolerant of a range of soils but grows best on sandy loam or well-drained gravels.
The Lemon-scented Gum's juvenile leaves have wavy margins and a sand-papery surface. They are arranged in an opposite formation, whereas the adult leaves are smooth, narrow, and long and are alternately arranged. Both forms have a strong citronella smell when touched. It is this heady aroma that excites many gardeners and tree-lovers.
Buds usually form within 2 years and flowering follows from mid-winter into spring, flowers having white filaments and cream anthers. Its gum nuts are urn-shaped and its seed is reddish black and glossy.
It has bark that is smooth, and can range in colour from white, pink, coppery, red to blue-grey. It sheds bark in thin curly flakes in spring. It has a symmetrical spreading canopy of sparse foliage and ideally requires space to take full advantage of its beautiful form. The possibility of "branch-drop" needs to be considered in its positioning. Conversely, it responds well to regular pruning to retain the lemon-rich juvenile foliage at an accessible height. In this way you can maintain it as a bush, hedge or standard.
It grows easily from seed best sown directly into containers and preferably using containers that have root training structure to aid establishment of a well-structured root system. At up to 2 m per year the growth rate of Corymbia citriodora is impressive and you can anticipate an elegant 20 m tree within 10 years.
Due to its straight growth Corymbia citriodora forms a strong structural timber that is used for beams, bridges, poles, containers, flooring and tool-handles. Its flowers are important for honey production. Its volatile oil is an important commodity for cosmetics, medicines, and insect repellents. It is popular in horticulture as an ornamental tree and in revegetation projects. It is also planted in cultivation in many countries overseas. With these multiple uses it is therefore valuable as a farm – forestry option in areas suited to its preferred growth requirements.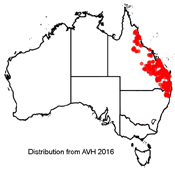 Patricia Nagle, Volunteer Botanical Training Program Participant 2016
Name meaning: Corymbia citriodora
Corymbia - – from the Latin corymbium, meaning a corymb
citriodora - of Greek origin and meaning lemon-scented
References:
Pryor L.D and Johnson L.A.S (1971) A Classification of the Eucalypts, Australian National University, Canberra.

Cronin, L. (1989) Key Guide to Australian Trees, Reed, NSW.

Rowell, R.J (1980) Ornamental Flowering Trees in Australia, Reed, NSW.

Costermans, L. (1989) Native Trees and Shrubs of South-Eastern Australia, Revised edition, Weldon, Sydney.

Centre for Plant Biodiversity Research (2006) Corymbia citriodora, EUCLID: Eucalypts of Australia, Third Edition. Available at http://www.anbg.gov.au/cpbr/cd-keys/euclid3/euclidsample/html/Corymbia_citriodora.htm [Accessed February 2016]

White, R. (2016) Horticulturalist, Australian National Botanic Gardens. pers. comm.

Taylor, D. (2016) Curator Living Collections, Australian National Botanic Gardens. pers. comm.