Poa labillardierei
Common Tussock-grass
Poa labillardierei (Common Tussock-grass) is an attractive, low maintenance, native ornamental. Poa labillardierei can be found in southern and eastern Australia including Tasmania, particularly in open forest communities, grassy woodland communities and in moister areas on low slopes and valley floors that are frequently wet.
Poa labillardierei is a dense coarsely tufted grasses and can reach a height of 120 cm. The greyish-green or blue-green leaves are long and slender with rolled or flat blades. Poa labillardierei flowers in spring to summer. The flower heads are like delicate plumes that extend above the highly ornamental foliage making the species very attractive for horticulture.
Poa labillardierei can be propagated by division and germinates readily from seed, into prepared soil in autumn and winter. The seedlings cannot grow in an area of continuous dry climate and needs moist soil to establish. The seeds can germinate in frost and can tolerate a temperature in the 0 to -5 °C range. It can grow in clay loam, heavy clay, loam, sandy loam and sandy clay loam of medium to high fertility. Due to its fast growth rate and shallow root system plants establishes quickly. Once established, it needs very low maintenance and no irrigation. Poa labillardierei regenerates well after burning but the fire should not be very hot for a long time.
Poa labillardierei does not appear have any major diseases or parasites. While it is not considered palatable it can be damaged by grazing animals such as rabbits and kangaroos.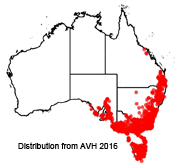 Saiba Sharmeen, Volunteer Botanical Training Program Participant 2016
Name meaning: Poa labillardierei
Poa - Greek word which means "fodder"
labillardierei - after the French botanist and explorer, J.J.H. de Labillardière
References:
Fox, E. (2011) Silver tussock (Poa labillardierei). Lismore Land Protection Group Available at http://corangamite.landcarevic.net.au/lismore-land-protn/publications/flora-fact-sheets/silver-tussock-poa-labillardierei [Accessed February 2016].

Jessop J., Dashorst G. & James F. M. (2006) Grasses of South Australia, Wakefield Press, SA

Mitchell, M. (2002) Native grasses: an identification handbook for temperate Australia. Landlinks Press.

Naomi Bell (2004) Poa labillardierei. Friends of the Australian National Botanic Gardens. Available at http://www.friendsanbg.org.au/_ARCHIVE_oldweb/articles/articlesmar04.html [Accessed February 2016].

Native Seed Pty Ltd (2014) Tussock grass. Available at https://www.nativeseeds.com.au/tussock-grass/ [Accessed February 2016].

New South Wales Department of Primary Industries (n.d.) Poa tussock or tussock grass. Available at http://www.dpi.nsw.gov.au/agriculture/pastures/pastures-and-rangelands/native-pastures/native-grasses---tablelands/poa-tussock-or-tussock-grass [Accessed February 2016].

West, G. Horticulturalist, Australian National Botanic Gardens. pers. comm.