Verticordia galeata
Verticordia galeata A.S.George
The genus Verticordia belongs to the tribe Chamelaucieae, within the family Myrtaceae. This tribe of plants contains many well-known species to horticulture such as Chamelaucium uncinatum (Geraldton Wax) and Darwinia fascicularis.
Verticordia galeata is geographically restricted to the Murchison River gorge area of Kalbarri National Park, Western Australia, in sandstone gorges on red sandy soil. It is a stout shrub that grows up to 1 metre in height with linear leaves. During spring and early summer it has bright yellow flowers, which have a gorgeous feathery calyx and distinctively hooded anther tips.
Propagation is mainly done by cuttings with a relatively high strike rate. Cuttings have taken in warm sand with loam. Avoid overwatering and high levels of humidity. Verticordia species have also been successfully grafted onto Darwinia citriodora and Chamelaucium uncinatum and this may help improve the hardiness of species against root rot and other fungal diseases.
Verticordia galeata requires free draining soil as waterlogging the roots will lead to root rot, fungal attack and eventually death. To combat this problem, raise the garden bed or plant in rockeries to help drainage. If planting in a large pot, use a potting mix with a light top of sand over a slightly heavier sand which contains some loam, gravel and clay.
When planting out Verticordia galeata providing an ideal microclimate with a temperate climate and low levels of humidity is essential. Receiving heavy rain during summer or high humidity may result in root rot and fungal attacks which can be fatal. If planted in the right microclimate it can perform well. This can be achieved by positioning Verticordia galeata in full sun with a north facing aspect and in a site that can offer protection from cold winds and frost. For example, at the Australian National Botanic Gardens in Canberra, horticulturalists have created an ideal microclimate for Verticordia galeata, providing a sheltered position from cold southerly winds beside a large boulder and with a north-facing aspect which provides full sunshine for most of the day.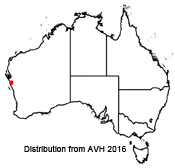 Guy Taseski, Volunteer Botanical Training Program Participant 2016
Name meaning: Verticordia galeata
Verticordia - translates as "turner of hearts" in reference to Venus, the Roman goddess of love and beauty
galeata - meaning "hooded" in reference to the prominent hooded appendages on the anther
References:
George, E. A. (2002). Verticordia: the turner of hearts. University of Western Australia Press [in association with] Australian Biological Resources Study, Australia.

George, A. S. (1991). New taxa, combinations and typifications in Verticordia (Myrtaceae: Chamelaucieae). Nuytsia 7: 231–394.

Sweet, H. (2016) ANBG horticulturalist, personal communication.

Wrigley, J. W. & Fagg, M. (2003). Australian native plants: cultivation, use in landscaping and propagation (5th ed). Reed New Holland, Frenchs Forest, N.S.W.