Banksia coccinea
Scarlet Banksia, Waratah Banksia, Albany Banksia, Waddib
Banksia coccinea is a member of the family Proteaceae. the species is known as the Waddib by the Noongar people of south-west Western Australia. Other names include the Scarlet Banksia, Waratah Banksia and Albany Banksia, all of which allude to either the flower morphology or where it naturally grows.
The plant is endemic to Western Australia and has a natural distribution eastwards from Denmark to the Young River in Stokes National Park, and north to the Stirling Range.
It grows naturally in shrub and low woodland with an annual rainfall of 400 to 800 mm on deep, sandy, acidic soil.
It is an erect shrub or small tree usually growing 4 to 5 m tall, sometimes reaching 8 m high. The bark is grey and smooth, but becomes rougher with age. Leaves have toothed margins and are 3–9 cm long and 2–7 cm wide; dark green above and paler underneath; fresh growth is often pink or silvery blue-grey. The foliage is tomentose (covered in densely matted hairs), which gives it a rich velvety feel.
The flowering period is long (June–January) and initiated by cooler night time temperatures. Flowers form terminally as an inflorescence 3–6 cm long and 8–10 cm wide. The flowers are typically grey with scarlet pistils, and it is these that provide the vivid colour. The colour may vary from dark red to orange, and rarely yellow or gold. The combination of the spectacular flowers and attractive foliage has led to B. coccinea being used extensively in floriculture across the world, including Australia, Canada, the U.S., France, Israel and New Zealand.
It lacks lignotubers and is killed by fire, regenerating through dispersal of seeds held in protective follicles in the canopy. Seeds for propagation can be obtained by placing the follicles in an oven at 140°C until they open.
It is sensitive to hard frosts and humid conditions, and dislikes clay soils. It is also highly susceptible to Phytophthora cinnamomi (rootrot/dieback). For best results, grow in pots in a mixture of native plant mix and plenty of sand. Placing the pots on a sandy substrate will further help drainage. Only use materials from reputable sources to reduce the risk of P. cinnamomi infection, and sterilise tools before use.
Water sparingly during summer months and feed twice a year (Spring/Autumn) with a low-phosphorus, slow release, granular native plant fertiliser. Prune back hard (up to two-thirds of the plant) in spring to promote thickening and formative growth, and to increase future flowering. If potted, the root ball may need occasional light pruning. For optimum flowering, position in open sunny areas and take a long stem (leave 3–4 healthy leaves on plant for axillary growth) when cutting flowers.
In addition to its attractive appearance
Banksia coccinea
is a prolific nectar producer, and the seeds are eaten by birds such as cockatoos, making it the perfect plant for attracting wildlife to the garden.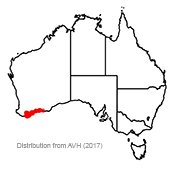 Jason Lewis, Volunteer Botanical Training Program Participant 2017
Name meaning: Banksia coccinea
Banksia - after Sir Joseph Banks, the English botanist who collected the first specimens of plants in the genus Banksia
coccinea - from the Latin coccineus meaning scarlet, which refers to the colour of the pistils of the flowers that give the inflorescence its colour
References:
Australian Flower Industry (2014). Common Flower Names List. Available at http://australianflowerindustry.com.au/common-flower-names/ [Accessed 5 February 2017].

Australian National Herbarium (2015). Information About Australia's Flora: Banksias – genus Banksia. Available at http://www.anbg.gov.au/banksia [Accessed 5 February 2017].

Bredell, P. (2017). Pers. Comm. Horticulturalist, Australian National Botanic Gardens.

Brown, R. (1810). On the Natural Order of Plants Called Proteaceae. Transactions of the Linnaean Society of London 10(1): 207.

Collins, K., Collins, C. & George, A. (2008). Banksias. Bloomings Books Pty Ltd, Melbourne, Australia.

George, A.S. (1996). The Banksia Book (3rd ed). Bloomings Books Pty Ltd, Melbourne, Australia.

Wrigley, J.W. & Fagg, M. (1989). Banksias, Waratahs & Grevilleas and all other plants in the Australian Proteaceae Family. William Collins Pty Ltd, Sydney, Australia.