Cassinia quinquefaria
Native Rosemary, Rosemary Cassinia
The Australian native Cassinia quinquefaria, commonly known as "Wild Rosemary" or "Rosemary Cassinia" belongs to the Asteraceae family. It is found along the south-east coast of Australia from Queensland to Victoria, and is particularly common in New South Wales. Cassinia quinquefaria is usually found in dry sclerophyll forest or grassy woodlands. It is particularly common along disturbed sites like roadsides and cleared bushland as it is a pioneer or colonising species.
A large, erect, aromatic shrub standing at up to 3 metres tall and 2 metres wide, it is relatively open and rounded with an overall light, wispy habit. Flowers are off-white to straw coloured and form dense terminal pendulus clusters from 5 to 10 cm long. They can be seen in mid-late summer (January to March). Seeds are released from March to August. Leaves are sticky, grey green, narrow and linear with revolute margins and an acute apex. The stem is also quite resinous.
Cassinia quinquefaria can be grown from seeds either sown directly (into sandy soils, watered regularly) or into a tray and potted on. They also grow well from cuttings. It prefers full to part sun in sandy soils such as deep shale or granite soil. Mulched areas and spots with poor drainage should be avoided.
Pruning after flowering to about one third of the plant can stop the shrub from getting woody and spindly at the base and maintain the more attractive juvenile foliage. It also increases the life span of the plant. It needs little watering, is fast growing, hardy and is frost and drought tolerant.
It is a great asset in garden staging as it can grow quickly to protect smaller, slower growing species or to fill gaps in the garden. For these reasons, it is also used commonly in regeneration work. It is a valuable garden addition for attracting birds, giving off a sweet, spicy aroma and producing cut flowers for use in a similar fashion to the florist's staple "Baby's Breath". Cassinia quinquefaria is also one of the few Australian natives that flower in summer.
Unfortunately, it is not an effective street plant or park shrub as the branches are thin and quite fragile. There is also quite limited availability at present with only specialised native nurseries and regeneration focused suppliers stocking the species.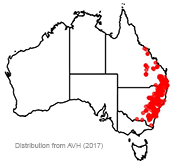 Molly Rowe, Volunteer Botanical Training Program Participant 2017
Name meaning: Cassinia quinquefaria
Cassinia - named by Robert Brown in honour of the French botanist Count Alexandre Henri Gabriel de Cassini (1781–1832)
quinquefaria - of Latin derivation, meaning "five-ranked", likely describing a morphological feature of the flowers
References:
Australian Government, Department of Defence, Coordination and Public Affairs (2005). Landscaping for biodiversity : Australian Capital Territory endemic species planting guide. Coordination and Public Affairs, Department of Defence, Canberra, A.C.T.

The Australian Daisy Study Group (1994). Australian Daisies that have proven reliable daisies in cultivation. Australian Plants 17(140): 346-354.

Australian Native Plants Society Canberra Region Inc. (2015). Australian Plants for Canberra Region Gardens and other cool climate areas (5th rev. ed). Australia: Australian National University Printing Service.

Brown, Robert (1818). Some observations on the natural family of plants called Compositae. Transactions of the Linnean Society of London 12: 128.

Centre for Plant Biodiversity Research (2001). Greening the Grainbelt: Harden Murrumburrah Landcare Revegetation Project: Searchable Species List. Available at http://www.anbg.gov.au/cgi-bin/harden/harden [Accessed February 2017].

Costermans, L. F. (2009). Native trees and shrubs of south-eastern Australia ([New ed.]). Reed New Holland, Sydney.

Elliot, W. R. & Jones, D. L. (1980). Encyclopaedia of Australian plants suitable for cultivation. Melbourne: Lothian Publishing Co. Pty. Ltd.

Fairley, Alan & Moore, Philip, 1939- (2000). Native plants of the Sydney district: an identification guide (2nd ed. (2000 ed.)). Kangaroo Press, East Roseville, N.S.W.

Hunstone, J. (2017). ANBG Horticulturalist, verbal communication.

PlantNET (The NSW Plant Information Network System). Royal Botanic Gardens and Domain Trust, Sydney. Available at http://plantnet.rbgsyd.nsw.gov.au [Accessed 11/02/2017].

Ralph, M. (2003). Growing Australian native plants from seed: for revegetation, tree planting and direct seeding (2nd ed). Murray Ralph/Bushland Horticulture, Fitzroy (Vic).

Richardson, E. (2007). An evolving garden - Richardson Garden - Photo Essay. Available at http://www.canberragarden.com/casestudies/RICHARDSON/photos.htm [Accessed February 2017].

Wrigley, J. W. & Fagg, M. (2013). Australian native plants : cultivation, use in landscaping and propagation. Chatswood, NSW: Reed New Holland.)