Gastrolobium celsianum
Swan River Pea
Gastrolobium celsianum (Lem.) G.Chandler & Crisp
Gastrolobium celsianum, commonly called the Swan River Pea, is in the Mirbelieae tribe of the Fabaceae family. It was published as Brachysema celsianum by botanist Charles Lemaire in 1844 and transferred to the genus Gastrolobium by Chandler and Crisp in 2002. It is endemic to south-west Western Australia where it grows along watercourses in sandy or gravelly soils and in moist depressions in mallee and woodland.
The Swan River Pea is a prostrate, scrambling or bushy ascending shrub growing to 1.2 metres high and spreading to 1 to 3 metres wide. Dark red pea flowers 2 to 3 cm in length make a striking combination with the grey-green and silvery foliage from late winter through spring (August to November) and also appear sporadically throughout the year. The flowers produce nectar which attracts honeyeaters.
Gastrolobium celsianum flowers do not look like a typical "pea flower". In addition to the red colouration they have a conspicuous curved keel, but lack a prominent standard petal. It has been hypothesised that the reduced standard petal and red colouration have evolved for bird pollination. Pubescent fruits are borne in October and November and are almost completely enclosed in a silky calyx.
Gastrolobium celsianum can be grown in a wide range of climates and soils, but it does require reasonable drainage. The spreading habit of this plant makes it useful as a groundcover. It also makes a good filler as it doesn't overrun other plants. It grows well with a good display of flowers whether in full sun or part shade. It will tolerate dry periods and medium frosts and it is suitable for an informal hedge as it responds well to pruning. For best results it should be pruned early to develop shape. In frost prone areas avoid pruning in the lead up to winter if the plant is in an exposed area as frost will damage the new growth. Mulch lightly with inorganic or organic materials. Mulches which are too deep prevent water penetration and impede seed germination. This plant is relatively pest free but may be grazed by kangaroos when other resources are scarce.
Gastrolobium celsianum can be propagated by seed or cuttings. Take firm cuttings of the current season's growth or scarify seed by abrasion or soaking overnight in hot water.
Gastrolobiums are generally known as the "poison peas" because many have foliage toxic to stock; however, Gastrolobium celsianum is not toxic and will make an eye-catching addition to your garden and requires very little maintenance.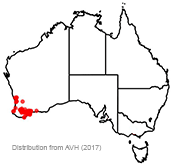 Shirley McLaran, Volunteer Botanical Training Program Participant 2017
Name meaning: Gastrolobium celsianum
Gastrolobium - comes from the Greek words gastros, meaning stomach, and lobus, meaning pod, in reference to the inflated seed pods
celsianum - from the Latin word celsus meaning high or lofty, possibly referring to the fact it is taller than other members of the genus Brachysema to which it originally belonged
References:
Australian Native Plants Society, Australia (2013) Australian Pea Flowers - Background. Available at from http://anpsa.org.au/peas1.html [Accessed Feb. 2017].

Australian Native Plants Society, Australia (2013) Gastrolobium celsianum. Retrieved from http://anpsa.org.au/b-cel.html [Accessed Feb. 2017].

Chandler, G. T., Crisp, M. D., Cayzer, L. W., & Bayer, R. J. (2002) Monograph of Gastrolobium (Fabaceae: Mirbelieae). Australian Systematic Botany 15: 619–739.

Elliot, G., & Elliot, W. R. (November 2010) Eye-catching colours of the Swan River Pea. Australian Horticulture: 11.

Elliot, W. R., & Jones, D. L. (1980). Encyclopaedia of Australian plants suitable for cultivation. Melbourne: Lothian.

Wrigley, J.W., & Fagg, M. (2013) Australian native plants: Cultivation, use in landscaping and propagation (6th ed.). Sydney, Australia: Reed New Holland.