Homoranthus lunatus
Crescent-leaved Homoranthus
Homoranthus lunatus Craven & S.R.Jones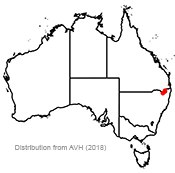 Crescent-leaved Homoranthus occurs sporadically near Tenterfield and Torrington on the New England Tablelands of NSW, including the Bald Rock and Boonoo Boonoo National Parks where plants are often found growing amongst granite outcrops and slopes among heath, shrub and woodland communities. Populations are generally pocketed and restricted to individual populations of 20 plants or less. The species does not spread vegetatively and is an obligate seeder severely affected by fire, one of the reasons for the species' 'Vulnerable' Commonwealth conservation status.
Crescent-leaved Homoranthus is a low, spreading shrub. When growing in its native distribution, plants are often seen at a mature size of between 40 cm to 1 metre tall, with specimens recorded as wide as 2.5m. In cultivation plants can be pruned to maintain a dense rounded form and are best kept around 40 to 50 cm height and width to maximise their flowering display.
This species has distinctive flattened crescent-shaped leaves which are paired on the plants' stems at right angles to each other and with spiky tips. These are laterally compressed, 4–10 mm long, 1–1.8 mm thick, <0.3 mm wide.
The variable foliage colour of this plant makes it appealing as a native plant for home gardens and ranges from bright green on new growth to blue-grey leaves with purple and pink hues. The leaves are a contrast to the yellow flowers which appear in thick displays of colour from late winter (July) into early spring (November), covering entire plants in a golden frame.
Propagation is successful from seed or by 10 to 15 cm cuttings taken in late autumn. Best results occur when dipping cuttings into a 3% indole butyric acid (IBA) hormone solution and using a propagation medium of 7 parts perlite to one part coconut coir.
As Crescent-leaved Homoranthus often occurs naturally on very poor, skeletal, sandy or peaty soils, often on and between granite boulders, they are adapted to well-drained and dry conditions in full sun. They may suffer from overwatering in clay soils when grown in home gardens but survive well in pots in free-drained potting mix.
After flowering plants should be given an annual prune using a mixture of thinning and tip-pruning to maintain the plants' vigour, structure and to promote a dense high-flowering form.
The plants are relatively pest-free but may suffer from attack by webbing caterpillars, which can be removed by hand or treated with an application of eco-oils.
Daniel Austin, Volunteer Botanical Training Program Participant 2018
Name meaning: Homoranthus lunatus
Homoranthus - probably from the Greek, homos, meaning same, and anthos, flower. The reason for the name is obscure
lunatus - from the Latin, meaning crescent-shaped, referring to the leaf shape of plants of this species
References:
Hunter, J.T. (1997). A further record of Homoranthus lunatus Craven & S.R. Jones (Myrtaceae) for northern New South Wales. The Queensland Naturalist 35(1-3): 24–25.

Hunter, J.T., Clarke, P.J., Copeland, L.M., Nano, C.E., Williams, J.B. and Wills, K.E. (1998). The Vegetation and Plant Species of Torrington State Recreation Area. Division of Botany, University of New England, Armidale.

NSW National Parks and Wildlife Service (2002). Bald Rock and Boonoo Boonoo National Parks Plan of Management. Available at
http://www.environment.nsw.gov.au/resources/parks/pomFinalBaldrockBoonoo.pdf [Accessed 30 May 2018].

NSW National Parks and Wildlife Service (2003) Threatened Species of the New England Tablelands and North West Slopes of NSW. NSW NPWS, Coffs Harbour.

Office of Environment & Heritage, NSW Government (2018). Crescent-leaved Homoranthus – profile. Available at http://www.environment.nsw.gov.au/threatenedspeciesapp/profile.aspx?id=10410 [Accessed 30 May 2018].