Nothofagus cunninghamii
Myrtle Beech
Nothofagus cunninghamii (Hook.) Oerst.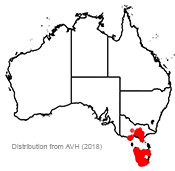 Nothofagus cunninghamii is one of three Nothofagus species native to Australia, along with Nothofagus gunnii and Nothofagus moorei. It grows in cool temperate climates which experience high annual rainfall throughout Tasmania and Southern Victoria. In favourable conditions Nothofagus cunninghamii grows as a canopy tree up to 40 m tall. It is also often found as a dense understorey shrub in less favourable conditions, particularly at higher elevations.
Unlike the deciduous Nothofagus gunnii, Nothofagus moorei and Nothofagus cunninghamii are both evergreen species, retaining their dark green leaves throughout the year. The leaves of Nothofagus cunninghamii are of a very distinctive triangular shape, with toothed margins. Juvenile leaves are bronze in colour, becoming dark green at maturity.
The flowers of Nothofagus cunninghamii are unisexual, meaning flowers are either male or female. Male flowers can be distinguished by their hanging stamens and solitary growth, while female flowers lack stamens and grow in clusters of three. These inconspicuous flowers may be seen throughout November and December.
From late December small nut-like fruits develop. While seed will continue to fall for several months after fruiting, the viability of the seeds reduces with time. For this reason, fertile seed collection is most successful from late December through to February. In order to maximise germination success, seeds should be refrigerated for 2 months in order to break seed dormancy; however, germination is still possible without refrigeration. Germination takes approximately 6 to 8 weeks.
This species can be grown from cuttings. It should however be noted that cutting Nothofagus cunninghamii increases the risk of infection by Myrtle Wilt (Chalara australis). For this reason, seed germination is recommended over propagation from cuttings.
Nothofagus cunninghamii grows in a range of conditions from full sun (although it may become stunted) to full shade. However, this species grows best in semi-shaded areas. Nothofagus cunninghamii should be planted in regularly watered, well-draining soils. In order to keep soil from drying out, mulch is recommended. This species is frost tolerant to around -7 ° C.
Alex Santiago, Volunteer Botanical Training Program Participant 2018
Name meaning: Nothofagus cunninghamii
Nothofagus - from the Greek nothos, meaning false and fagus, referring to the original belief that this genus was related to Northern Hemisphere Beech (Fagus) trees
cunninghamii - after the 19th Century botanist Allan Cunningham
References:
Australian Native Plants Society (Australia) (2018). Nothofagus cunninghamii. Available at http://anpsa.org.au/n-cun.html [Accessed 13 February 2018].

Conservation Volunteers Understorey Network Tasmania (2018). Nothofagus cunninghamii. Available at http://www.understorey-network.org.au/communities.html?species=Nothofagus%20cunninghamii [Accessed 12 February 2018].

Department of Primary Industries, Parks, Water and Environment Tasmania (n.d.). Flora of Tasmania: Nothofagus cunninghamii Notesheet. Available at http://dpipwe.tas.gov.au/Documents/Nothofagus-cunninghamii-Notesheet.pdf [Accessed 30 May 2018].

Hovenden, M. J., & Vander Schoor, J. K. (2004). Nature vs nurture in the leaf morphology of Southern beech, Nothofagus cunninghamii (Nothofagaceae). New Phytologist 161(2): 585–594.

Hovenden, M. J., & Vander Schoor, J. K. (2006). The response of leaf morphology to irradiance depends on altitude of origin in Nothofagus cunninghamii. New Phytologist 169(2): 291–297.

Howard, T. M., & Ashton, D. H. (1973). The distribution of Nothofagus cunninghamii rainforest. Proc. Roy. Soc. Victoria 86(1): 47–75.

Kile, G. A., & Walker, J. (1987). Chalara australis sp. nov. (Hyphomycetes), a vascular pathogen of Nothofagus cunninghamii (Fagaceae) in Australia and its relationship to other Chalara species. Australian Journal of Botany 35(1): 1–32.

West, G. (2018). Australian National Botanic Gardens Horticulturist, personal communication.