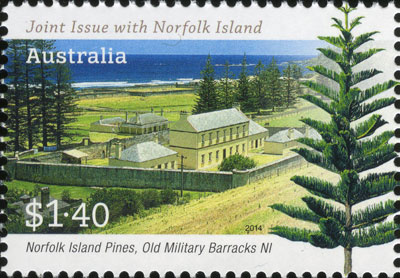 Date of issue: 22 July 2014
Designer: Melinda Coombes, Australia Post Design Studio
Printer: RA Print
Plant: Araucaria heterophylla
Family: ARAUCARIACEAE
Norfolk Island Pine
Tall, stately tree to 50m. Mature leaves overlap to encircle branches. They are broadly ovate, to 7mm long. Female cones are globular, about 10cm diameter.
Distribution: Norfolk I (naturalised on Lord Howe I).
Propagation: From seed.
Cultivation: Excellent large tree for beachside plantings. Useful pot plant when small. Frequently used as Christmas tree.

---
---