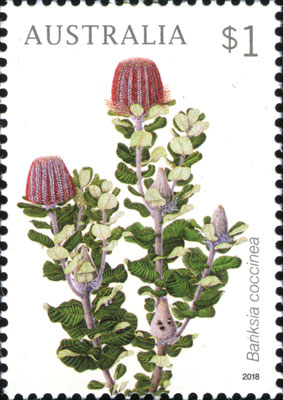 Date of issue: 20 February 2018
Designer: Jo Mure, Australia Post Design Studio
Printer: RA Printing
This is one of a series of four Banksia stamps based on the paintings of Celia Rosser.
Plant: Banksia coccinea
Family: PROTEACEAE
Common-name: Scarlet Banksia
Named by botanist Robert Brown from the Latin 'coccineus' meaning 'scarlet'.
It is a shrub or small tree to 8 m without a lignotuber. It is one of the most attractive
fast-growing species suited to cultivation in cooler climate zones. It prefers deep sand
and flowers best in an open sunny site.
Distribution: Western Australia, from Albany to the Stirling Ranges.
---
---