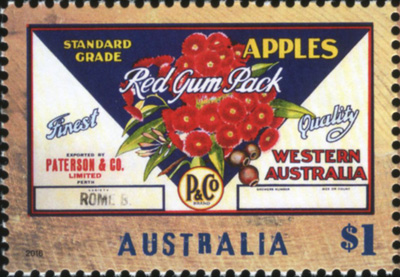 Date of issue: 7 June 2016
Designer: Jo Mure, Australia Post Design Studio
Printer: Ego Trade Pty Ltd., RA Printing.
This is the only Australian native plant in a series of 4 fruit label stamps.
This label for apples happens to include Red Flowering Gum, ca. 1920s.
Plant: Corymbia ficifolia
Family: MYRTACEAE
Red Flowering Gum

Corymbia ficifolia is common in cultivation in areas with a Mediterranean climate, the tree can reach a height of 15 metres. The flowers are borne in large terminal sprays and vary in colour from white to pink to red and orange, from summer through to autumn.
Distribution: naturally a very restricted distribution in the Stirling Ranges SE of Perth, WA.
Propagation: From seed.
Cultivation: Does well on heavy soils but does not thrive in sand. Plants grafted on to Corymbia gummifera are frequently used to increase the tree's hardiness in subtropical areas.
---
---