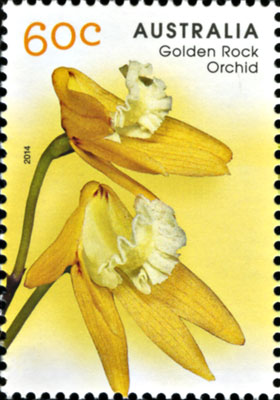 Date of issue: 14 January 2014
Designer: Sonia Young, Australia Post Design Studio
Printer: EGO
Plant: Dockrillia striolata
Family: ORCHIDACEAE
Golden Rock Orchid, Streaked Rock Orchid
This lithophytic (growing on rocks) orchid is found in south-eastern Australia.
The plant illustrated is the golden coloured form from Tasmania.
This was once considered to be in the genus Dendrobium, but in 1996, 10 species with succulent leaves, wiry stems and creeping or pendulous habit were transferred to a new genus, Dockrillia. All may be grown readily in pot culture or on slabs, the creeping and pendulous species (Dockrillia ) being best suited to slab culture.
---
---