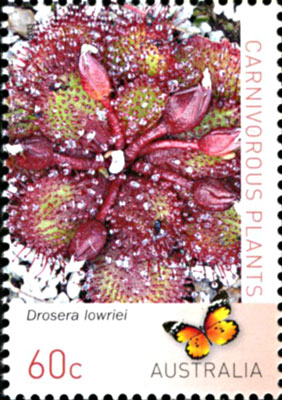 Date of issue: 13 August 2013
Designer: Jo Mure, Australia Post Design Studio
Printer: RA Print (McKellar Renown)
Plant: Drosera lowriei
Family: DROSERACEAE
a sundew
There are about 125 species of Drosera in Australia, with 3 in America and about 20 in Europe.
They are insectivorous plants with sticky-ended 'hairs' on their leaves.
The leaves envelope and digest insects that get stuck on the sticky hairs.
This species occurs on granite outcrops in the south-western region of Western Australia.
It was named after Allen Lowrie, a Western Australian botanist.
---
---