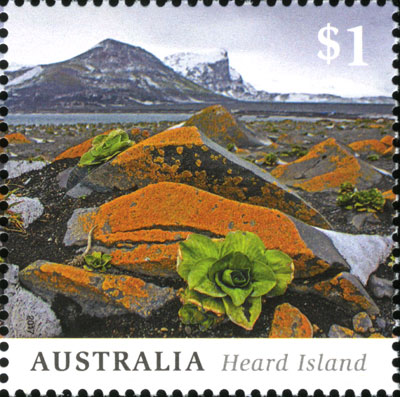 Date of issue: 5 September 2017
Designer: Melinda Coombes, Whitechurch Coombes Design
Printer: EGO
This is the only Australian native plant stamp in a series of four 'Heard Island' stamps.
Plants:
Orange lichen: Caloplaca sp. (family TELOSCHISTACEAE)
Green leaves: Pringlea antiscorbutica (family BRASSICACEAE)
Notes
About 71 lichen species in 42 genera occur on Heard Island.
Only 12 species of flowering plants in 8 families occur on Heard Island.

Heard Island (52&deg 05' S, 73&deg 30' E) is a small (368 km2), isolated island in the Southern Indian Ocean,
situated well south of the Antarctic Polar Frontal Zone. The nearest land is formed by
McDonald Island, 54 km W of Heard, and the Kerguelen Islands, 470 km to the north-west.
The nearest continent is Antarctica, 1650 km to the south, with Australia 3500 km to the northwest.
---
---