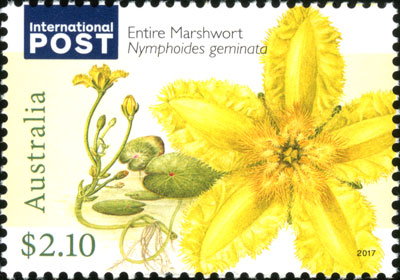 Date of issue: 27 September 2017
Designer: Jenny Phillips, Australia Post Design Studio
Printer: RA Printing (EGO)
This is one of a series of three Australian native aquatic plant stamps.
Plant: Nymphoides geminata
Family: MENYANTHACEAE
Common-name: Entire Marshwort
It grows in still and slow-flowing pools, usually less than one metre deep.
The flowers emerge above the water surface on long stalks.
Distribution: Queensland, NSW, Victoria and South Australia.
---
---