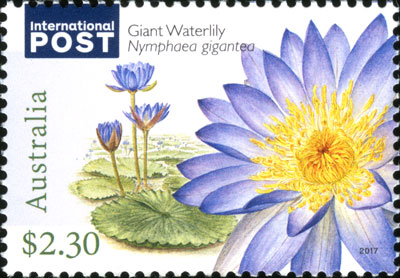 Date of issue: 27 September 2017
Designer: Jenny Phillips, Australia Post Design Studio
Printer: RA Printing (EGO)
This is one of a series of three Australian native aquatic plant stamps.
Plant: Nymphaea gigantea
Family: NYMPHAEACEAE
Common-name: Giant Waterlily
The flowers grow to 25-30 cm in diameter.
The plants favour permanent water with deep mud.
Distribution: Queensland, NSW.
---
---