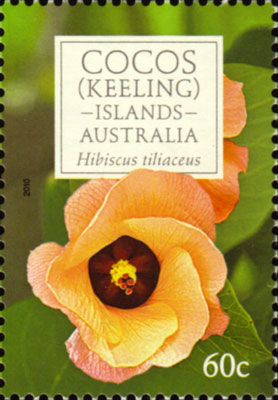 Date of issue: 15 September 2010
Designer: Jo McAlpine
Australia Post Design Studio
Printer: McKellar Renown

Plant: Hibiscus tiliaceus

Family: MALVACEAE

Cottonwood
Small tree to 7 m with dense, rounded crown and light green, round or heart-shaped leaves to 12 cm diameter. Yellow flowers to 14 cm diameter with red centres occur in spring. Distribution: Qld, NSW, NT, South-east Asia.
Propagation From seed or cuttings.
Cultivation
A hardy plant in warm frost-free areas. Tolerant of salt spray. Useful street tree in beachside suburbs, particularly in the north. Likes full sun.
---
---