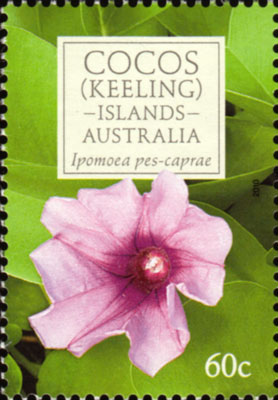 Date of issue: 15 September 2010
Designer: Jo McAlpine
Australia Post Design Studio
Printer: McKellar Renown
Plant: Ipomoea pes-caprae
Family: CONVOLVULACEAE
Vigorous, prostrate trailer with long trailing stems. The large, smooth, almost round leaves are prominently notched at the tip. The mauve-purple funnel-shaped flowers are about 7 cm in diameter. Distribution: sandy beaches of NSW, Qld, NT, WA.
Propagation From seed.
Cultivation
Has rarely been tried in other than sandy, sunny positions. Very frost tender. Useful in sand-dune stabilisation work.
---
---