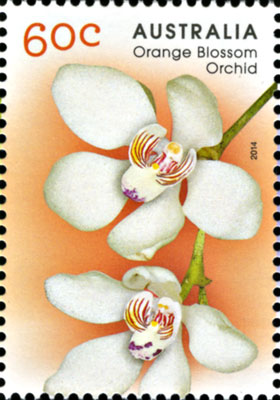 Date of issue: 14 January 2014
Designer: Sonia Young, Australia Post Design Studio
Printer: EGO
Plant: Sarcochilus falcatus
Family: ORCHIDACEAE
Orange Blossum Orchid
The scent and shape of this orchid's flowers are similar to orange blossoms.
It is distributed throughout eastern Australia up to Cape York Peninsula.
Sarcochilus is small genus of showy epiphytic or lithophytic orchids with about 13 species recognised in Australia, Sarcochilus may be readily cultivated in a bush-house in all but the very coldest parts of the continent. They are best grown on slabs or logs, although effective displays have been seen in pots.
---
---