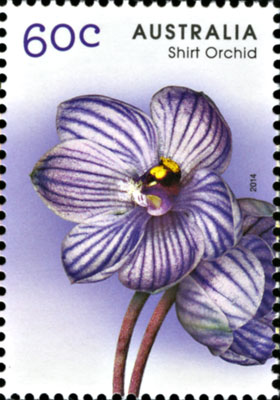 Date of issue: 14 January 2014
Designer: Sonia Young, Australia Post Design Studio
Printer: EGO
Plant: Thelymitra campanulata
Family: ORCHIDACEAE
Shirt Orchid, Bell Sun Orchid
This orchid is endemic to the south-west of Western Australia.
One common name comes from the fine stripes which reminded early settlers of the country shirt style of the day.
It has a tuber and grows to about 20-50 cm tall, flowering from September to October, usually on white or grey sand in dunes or sandplains.
---
---