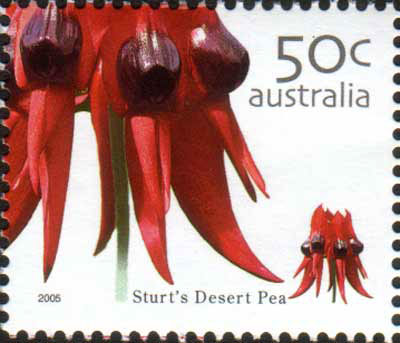 Date of issue: 5 July 2005
Designer: Janet Boschen
Engraver: Australia Post Design Studio

Plant: Swainsona formosa

Family: FABACEAE

Sturt's Desert Pea
Trailing plant with grey, pinnate leaves to 15 cm long, on stems spreading to 2 m. It may be an annual or short-lived perennial. Bears pea-flowers, 5–6 cm long, of brilliant red with black boss on erect peduncles. Other colour variants are known. Flowers appear in spring. Distribution: Semi-arid areas of WA, SA, NT, NSW, Qld.
Propagation From scarified seed.
.


---
---