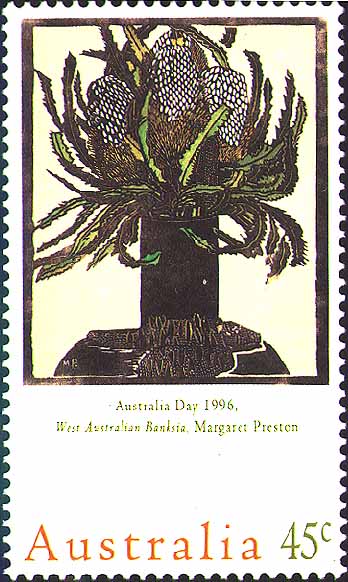 Date of issue
: 1996
Designer
: Susan Horvath
Artist
: Margaret Preston
Plant
: Banksia prionotes (?)
Family
: PROTEACEAE
Acorn Banksia
A shrub or small tree to 10m high.
Head of tightly grouped flowers, 10-15 cm long.
Unopened flower buds at top of head are cream coloured.
Flowers open from bottom of head, orange and brush-like.
Occurs in south-western Western Australia.
Margaret Preston
(1875-1963) is one of Australia's best known artists.
She was very influential during the 1920's - 1940's, especially as a print-maker.
This woodblock print is from c.1929.
Orignial size: 42.2 x 38 cm.
Called 'West Australian banksia', the species identification is conjectural.
---
---