Pultenaea pedunculata
Matted Pea Bush
Pultenaea pedunculata (Matted Pea Bush) is a member of Fabaceae, the pea family. Fabaceae includes approximately 400 genera and 10,000 species. It has a global distribution and is of high economic importance. The family includes herbs, climbers, shrubs and trees. Members of Fabaceae have distinct flowers, with one large 'standard' petal, two smaller 'wings', and two petals joined to form a 'keel'. Fruit is generally a two-valved pod, which scatters the seeds by splitting open forcefully when dry. Seeds are generally hard and dormant, requiring fire to trigger germination.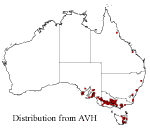 P. pedunculata occurs on three industrial and residential sites in the Sydney region, on the South Coast, the Southern Tablelands, Victoria, South Australia and Tasmania.
It is a prostrate, mat-forming shrub to 20 cm high with stems up to several meters long. The stems are covered with whitish pressed hairs. Mature plants may grow in dense patches 3-4 m wide. Its leaves are alternate, narrow-elliptic, 6-11 mm long, 1-2 mm wide, sparsely hairy with a recurved point at the tip. Flowers are the characteristic shape of Fabaceae, orange-yellow with reddish markings, 4-8 mm long on stalks to 20 mm long. P. pedunculata flowers mostly between August and December. The fruit is a pod 5-7 mm long, which matures between October to January and may persist until April-May.
P. pedunculata generally occurs in dry sclerophyll forests, on a variety of soils. In Western Sydney, it is found in clay or sandy clay soils, favouring moderately to poorly drained soils. Most populations occur in the creek lines of broad dry valleys, although the species is also often found on gravelly road batters. On the far south coast, P. pedunculata grows in sand on headlands and slopes immediately above the beach or in littoral rock crevices.
P. pedunculata appears to be a colonizer of disturbed areas and requires open habitat conditions with limited development of the ground and shrub layers. Plants are often locally frequent in disturbed sites but have a more scattered distribution in more intact areas. The small number of isolated populations with low numbers at many sites, combined with limited recruitment of seedlings suggests that populations of P. pedunculata are likely to be of low genetic diversity. Populations may be at risk, therefore, of extinction from chance events and/or environmental change. P. pedunculata is listed as an endangered species on Schedule 1 of the Threatened Species Conservation Act 1995 (NSW).
P. pedunculata prefers rich, moist, well-drained soil and semi-shade. Be careful not to overshade it with larger plants. It can be grown from seed in spring, or from cuttings in late summer. Seeds should be first soaked in hot water. Cuttings (10-15 cm worth) generally strike in about 6 weeks. Fertilizer application does not generally achieve significantly different results with Pultenaea species. For good coverage, grow plants about 60 cm apart.
Pultenaea pedunculata is also available in a yellow-flowered cultivar, 'Pyalong Gold' and a pink-flowered cultivar, 'Pyalong Pink'. Whatever colour you choose, P. pedunculata is a wonderful choice for adding a little colour to your garden!
Text by Anthony Davidson (2005 Student Botanical Intern)

Derivation of the name: Pultenaea pedunculata
Pultenaea – named after the English botanist Richard Pulteney (1730 – 1801).
pedunculata – "with a flower stalk", from the Latin pedunculus , meaning "a little foot", and the suffix -atus designating the possession of something: the flowers of this plant possess a peduncle (flower stalk).
References
Australian National Botanic Gardens (2005) Growing Native Plants: Pultenaea villosa. http://www.anbg.gov.au/gnp/gnp9/pultenaea-villosa.html

Australian Native Plants Society, Canberra Region (2005) Pultenaea http://members.ozemail.com.au/~mightyq/plants/all/Pultenaea.htm

Australian Plants Online (2005) Pultenaea from cuttings. http://farrer.riv.csu.edu.au/ASGAP/APOL14/jun99-14.html#pultenaea

Department of Environment and Conservation (2005) Threatened Species Conservation Act 1995 http://www.nationalparks.nsw.gov.au/npws.nsf/Content/Threatened+Species+Conservation+Act+1995

Griffith, C. (2005) Dictionary of Botanical Epithets http://www.winternet.com/~chuckg/dictionary.html

Harden, G.J. (Ed.) (1991) Flora of New South Wales, Vol. 2. New South Wales University Press, Kensington.

New South Wales National Parks and Wildlife (2005) Threatened Species Information: Pultenaea pedunculata . http://www.nationalparks.nsw.gov.au/PDFs/TSprofile_Pultenaea_pedunculata.pdf